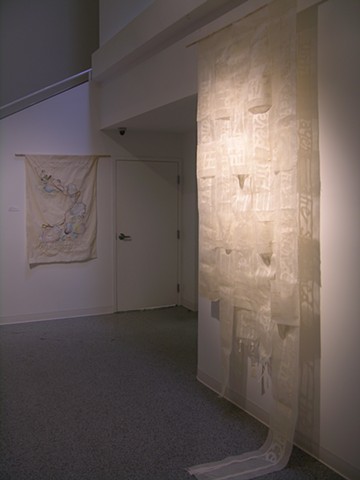 Kristin Miller Hopkins is an artist + educator + designer living in south Florida.
Her fine artwork creates habitats, investigates spaces of the home and uses natural materials to question narratives through the delicate layering of mixed media materials. Common materials include sewing, hand drawn/sewn text, watercolor, drawing and alternative photography processes.
Current/upcoming exhibits on view:
"New Topographies" - an exhibit of 10 mixed media collages and "Format: 18x24" - a poster project at Whitespace Collection:
Up through March 31, 2019
"Faculty Show": Palm Beach State College, PGA gallery: Opening Reception: Tuesday, Jan. 15, 5-8 p.m. Up through Feb. 1, 2019
Selected as an artist in "ArtCurated" part of the ArtFTL art fair. ArtFTL: January 24-27, 2019.
Co-Curator of "Modern Love" - an exhibit of 20 artists at Palm Beach Cultural Council. February 15-May 18, 2019. Palm Beach Cultural Council


She is a Professor 1 of Art + Design at Palm Beach State College and has an M.F.A. from the Visual Studies Workshop in Rochester, NY and a B.A. in Studio Art from Florida State University.